About Chris Pereira
I am an Accredited Court Interpreter (Ontario Canada) and Mandarin Chinese – English translator, an associate member of the Society of Translators and Interpreters of British Columbia (STIBC) (Chinese to English), and am registered with the Insurance Corporation of British Columbia (ICBC). I am also a member of Translators Without Borders.
I specialize in native Chinese to English written and spoken translation with a focus on technical and business document translation. Industries and specialties I regularly work in include law (contracts, regulations, national standards), IT, mobile and telecommunications, apps and games, general business (manuals, instructions, rules and regulations, systems), general medical documents, and marketing.
In my interpretation assignments I regularly work with criminal court legal matters, family court legal matters, private disputes, business meetings and functions, exhibitions, medical issues, and emergency communications. Much of my work demands a high degree of confidentiality, which I guarantee for all assignments.
My studies and work have ranged across mainland China, Hong Kong, and various locations across Canada. With a background in English Literature and Chinese Language and Literature, I bring professionalism, accuracy, and a passion for languages to every project.
我是法庭认证传译员(加拿大安大略省)、汉译英翻译家、BC省翻译协会准会员(汉译英)和BC省保险公司注册翻译员。同时也是无国界翻译会员。
我专业从事各类汉英的笔译和口译工作,聚焦于技术和商务文件翻译。我经常涉及到的行业和专业包括法律(合同,法律法规,国家标准),信息技术 (IT),移动与通信,应用与游戏,普通商务 (手册,使用说明,规章制度,其他制度),普通医学文件,和市场营销。
在传译工作过程中,我通常接到的任务包括刑事法庭法律事项,家庭法庭法律事项,私人纠纷,商务会议与活动,展览,医疗事件,紧急通讯等业务。我的很多工作都要求保证很高的机密性, 而所涉及到的项目在保密方面是有所保障的。
在学习和工作的过程中,我曾常住中国大陆,香港,和加拿大各地。基于深厚的英文文学和汉语言文学功底,我能够为您提供专业的,精确的,富有激情的语言翻译。 
Chris是STIBC的准会员 (汉英):
Chris Pereira is an Associate Member (Chinese to English) of: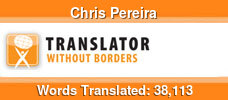 E

nglish to Chinese & Chinese to English volunteer translator
英译汉和汉译英的志愿译员